Are you planning on selling, adding a few improvements, or flipping houses? If so, you may have decided to add some upgrades to significantly increase the return on investment (ROI) on your home in Hickory, NC.
It can sometimes be difficult to determine the best upgrades when remodeling homes for sale in Hickory, NC. If you find yourself walking through your home from the front foyer to the bedrooms, unsure where to start, read on for some top tips. The
Joan Killian Everett Company
has curated a list of seven essential home upgrades that will bring the top ROI.
1. Replace the garage door
The home upgrade that is low cost and brings back one of the highest returns on investment is the
garage door
. A garage door that looks worn, dented, or outdated can decrease the overall value of your home. As you want your garage door to look appealing and match your home's updated style, you should consider replacing it with a new modern design complete with an automated garage door opener. Considering that you will get most of the money back, this is one easy upgrade you must do.
2. Add manufactured stone veneer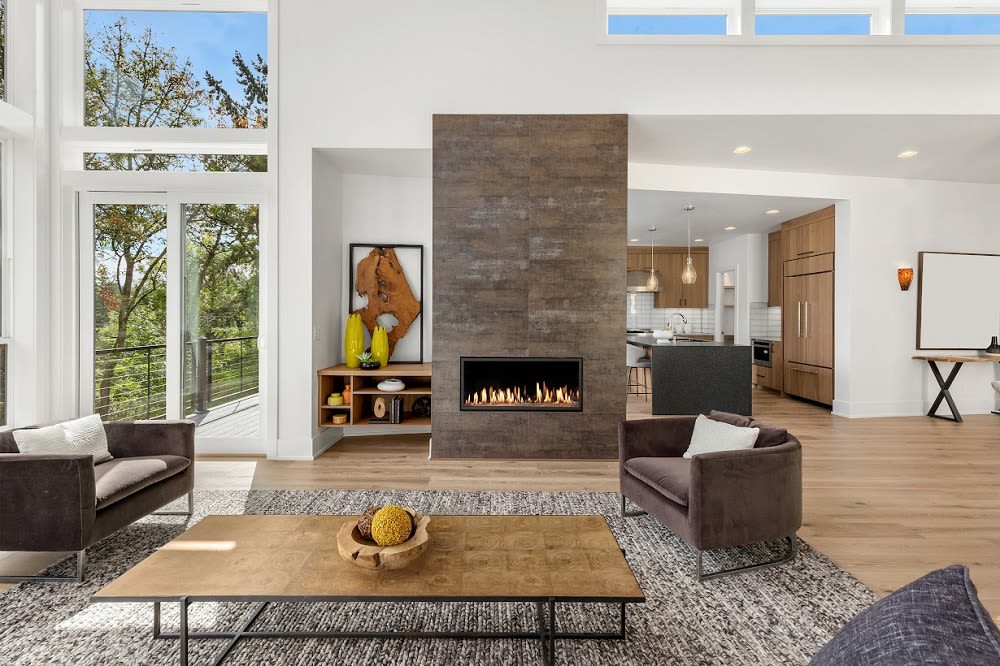 Photo courtesy of Shutterstock
An easy way to amp up the overall look of your home while
increasing the ROI
is by adding manufactured stone veneer. Manufactured stone veneers can be used on both the interior and exterior to make certain elements in your home more visually appealing and interesting.
For example, many homes for sale in Hickory, such as
this one
, used manufactured stone veneer as a kitchen backsplash and around the home's exterior to either highlight or draw buyers' eyes toward a certain direction. Other places where you can add manufactured stone veneer include the fireplace and interior walls. Consult your real estate agent to determine if this would be a good option for your home.
3. Make the shift from carpet to hardwood floor

The floor is often a catch-all for all the dust and dirt. This is tripled a thousand times when your home has carpet. Of course, you could consider deep cleaning your carpet to remove the stains, dust, pet fur, and other debris. However, sometimes no matter how good and extensive the cleaning, some stains cannot be removed. That is why you should consider updating the flooring. If you have carpet, consider tearing it out and replacing it with new hardwood flooring. If you have a hardwood floor already, but if it is dented or does not match your home, then consider updating your flooring to look brand new.
For example, Granite Falls homes like
this
use vinyl and tiled hardwood flooring to create a clean and sleek space. With a
high ROI for hardwood floors
, this is one upgrade you should add to change the overall look of your home. It will make prospective home buyers feel at ease and comfortable so that they will be enticed to make an offer, hopefully well above the listed price.
4. Replace the windows

North Carolina is well known for the humidity for much of the year. When the humidity is high, and temperatures are low, this can cause the windows to form condensation, which can ultimately block and drip onto the floor. To prevent damage to your floor and make your indoor living space considerably more comfortable, you should consider replacing some, if not all, of your windows.
Consider fiberglass or vinyl windows that are energy efficient certified. These windows are designed to withstand the often volatile weather in North Carolina, such as humidity, tropical storms, and hurricanes. Replacing the windows in your single-family home cost
an average of $12,000; however, with an ROI of 81%
, you will get most of that back. Further, when you consider how much you will save on your energy bills in the future, this is another upgrade that you should consider.
5. Make your kitchen more efficient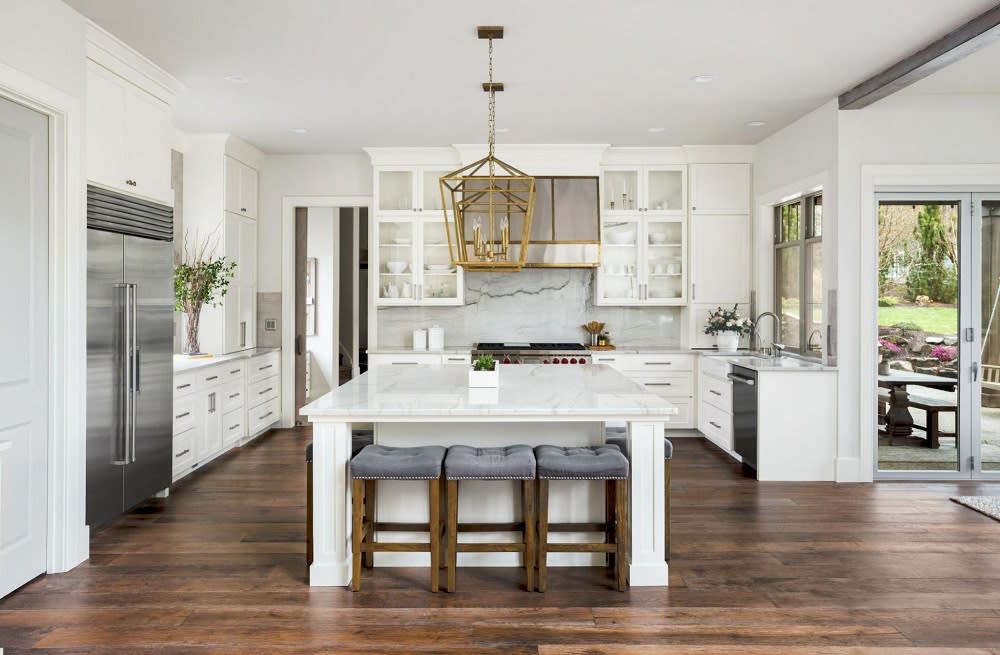 Photo courtesy of Shutterstock
You probably spend a considerable amount of time in the kitchen. That is why you should take the time to make it more efficient, which can also improve your home's value. On average, a few kitchen upgrades can significantly boost your
home's ROI
.
There are many different upgrades you can do to your kitchen. To start with, consider painting, changing hardware, and updating countertops for a fresh new look. You could also update and install energy-efficient appliances. Other popular amenities in Hickory include a kitchen island, walk-in pantry, and wine cellar. For example,
this single-family Hickory home
features a sleek and contemporary style kitchen with many top-rated appliances, a gorgeous backsplash and countertops, and a wine cellar. Consult your Hickory real estate agent to determine what kitchen upgrades would help enhance your home's value.
6. Add minor updates to the master bath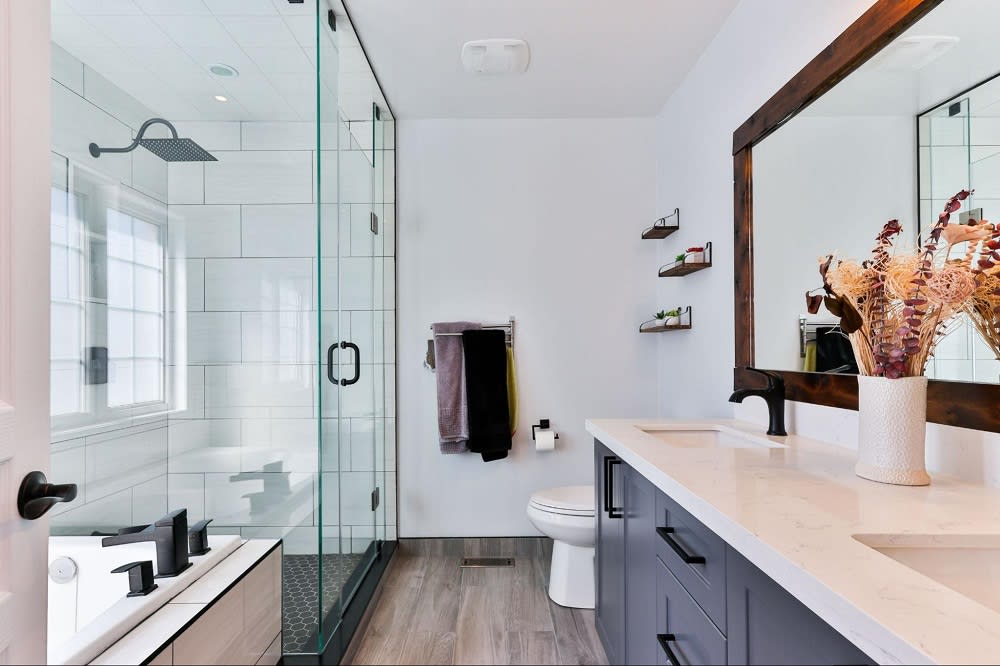 Photo courtesy of Unsplash
Second to the kitchen, the master bathroom is the most important room for buyers. Home buyers do not want to feel like stepping into someone else's bathroom. By making a few minor upgrades, you can elevate the overall look of the master bath. Consider repainting the walls, updating the light fixture, and even adding a rain shower. For example, the master bath in
this single-family home in Hickory
features updated lights, new flooring, a standalone tub, and a walk-in shower to create a gorgeous resort-style bath. You can expect to gain over
60% ROI
by adding strategic updates to the bathroom. Strategic updates can help elevate your master bath so prospective home buyers will feel at ease and be willing to pay more for homes for sale in Hickory.
7. Add a private deck
Perhaps one of the most versatile upgrades, a private deck can add square footage to your outside space. There are many possibilities for upgrades here. You could add a hot tub, lounge chairs, outdoor kitchen, or wine bar. Ultimately, whatever you use it for will turn into an elegant oasis where you, your family, and your guests can lounge in luxury. With an
ROI of 75%
, this is another upgrade you should consider for your home in Hickory.
Ready to get started?
Are you ready to list your Hickory home for sale today? If you are, contact the
Joan Killian Everett Company
for expert guidance on everything from staging to finding the right buyer for your home. This top-producing
team
will help you get top dollar on your house before you know it!

*Header photo courtesy of Joan Killian Everett