If you're listing
properties for sale in Catawba County, NC
, you should be considering how you can boost your home's return on investment (ROI). It's important to properly plan your home improvements and renovations when listing your North Carolina home for sale—as the right projects can lead to a high payout, and the wrong projects can leave buyers scratching their heads. If you're looking to sell, or have recently purchased Lake Hickory real estate, consider the following tips to best maximize your ROI when selling your home.
Update the color palette
An outdated color palette can make even the best luxury homes look drab inside. A fresh coat of paint will not only boost the value of your home at a low cost but will draw a potential buyer's eye through the house. It's best to use employ warm neutral colors, strategic accent walls, and calculated color choices when redesigning the interior and exterior spaces. If you're looking to paint solely for the purpose of selling, then be sure to research trends in your area or discuss it with your realtor. If your home has bold or dated wallpaper, remove it before painting and listing the home. However, if you're just sprucing things up, a single area with contemporary wallpaper can add a nice touch of personality to your home—just be sure not to overdo it.
Painting the interior of your home can lead to a 107% ROI while painting the exterior is also a savvy investment
.
Create additional space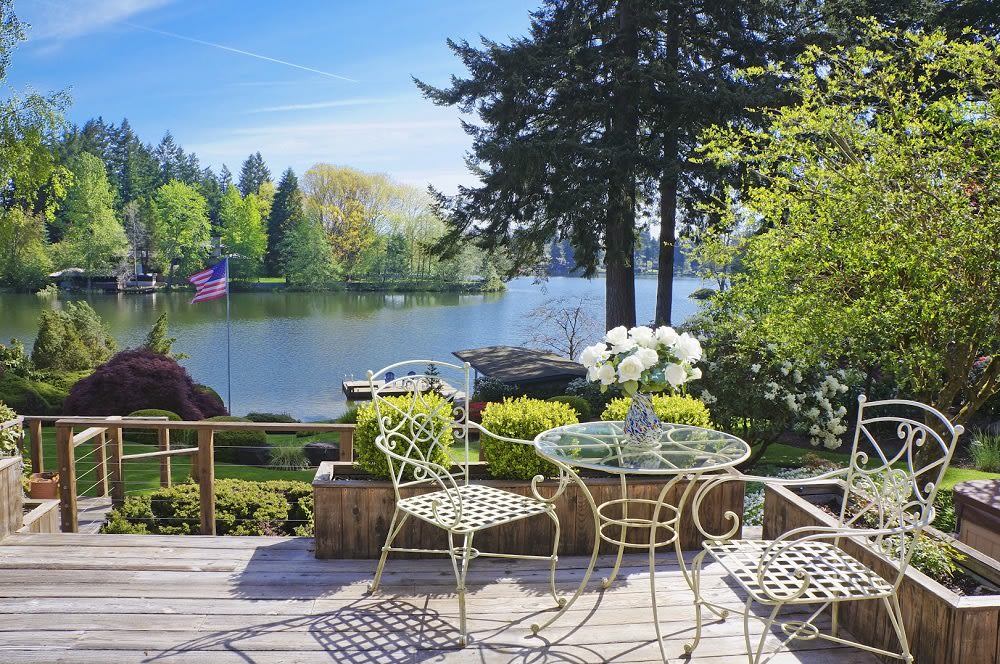 Any renovation that adds more square footage to your home will yield a good return. Even in a down market, upgrades that increase your home's square footage, such as deck improvements, are likely to recoup 100% of their cost. In a seller's market, you're guaranteed an even higher return. Adding additional space can include upgrades such as extra rooms and outdoor infrastructures like patios or outdoor kitchens. Projects that create additional space are especially good long-term investments. According to the
2018 Remodeling Impact Report
from the National Association of Realtors, patios recover 102% of their building costs on average.
Add depth and texture with a backsplash

In addition to updating your color palette and adding square footage, consider adding a contemporary tile backdrop into your bathrooms, kitchen, or mudroom. Look for a backsplash that's modern, yet timeless for the best results. A backsplash serves two main purposes: protecting your walls and adding charm and personality to your home. This improvement can either be an independent project or added to a full kitchen remodel or renovation.
Replace old windows

Not only will replacing windows greatly increase your home's value, but old windows are often inefficient and may result in paying up to 24% higher energy costs every year. Single pane windows also lack the security provided by double pane windows. Upgrading older windows can not only save energy but work to round out the aesthetic of other upgrades and remodels throughout the home.
Replace or repair garage doors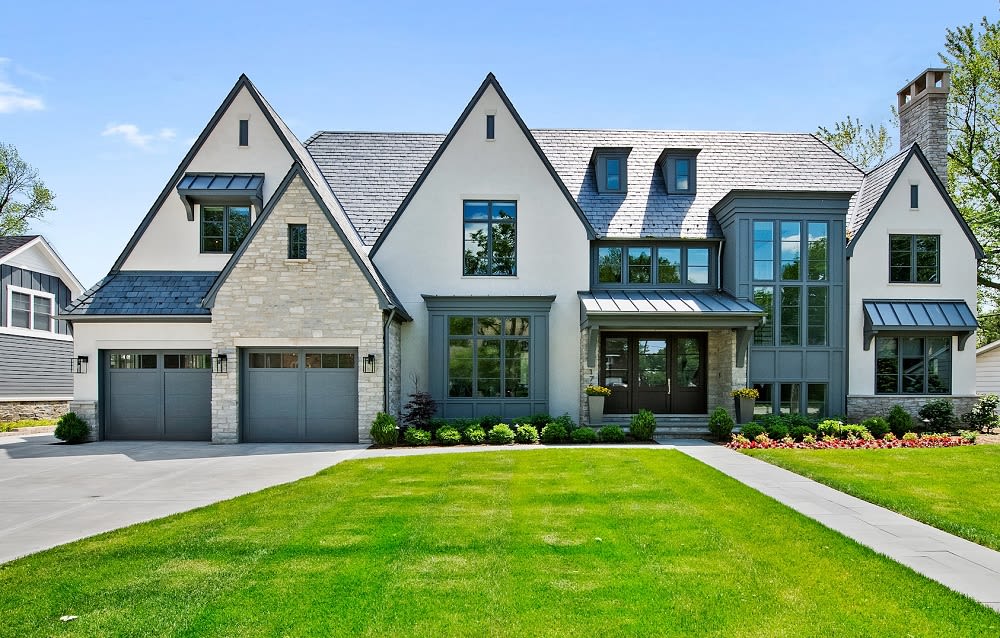 A new garage door is one of the best investments to boost your home's ROI. Not only can old garage doors pose a safety concern and potentially result in your home failing an inspection when selling, but improved and upgraded garages can see an incremental increase in home value up to $15,000.
Repair or replace old roofing
Replacing old roofing will not only increase the value of your home but ensure that it passes inspection with ease—meaning fewer surprises for you to deal with, and less money paid out of pocket when closing.
The National Association of the Remodeling Industry (NARI)
released a remodeling impact report that found new roofs provide a 109% return, which means that fixing up your roof can not only have a positive impact on your experience as a homeowner—but may even turn a profit.
Renovate old cabinets

Replacing old cabinets is an excellent way to spruce up your home and complete your kitchen or bathroom remodel project. Updating cabinets can be as simple as painting them and replacing their hardware, removing cabinet doors for a modern look, or tearing out the existing structures to change the layout of the room. Any of these options can make a space look larger and more modern, and will speak to luxury buyers who pay are willing to pay more in order to avoid doing projects like these themselves.
Refresh the floors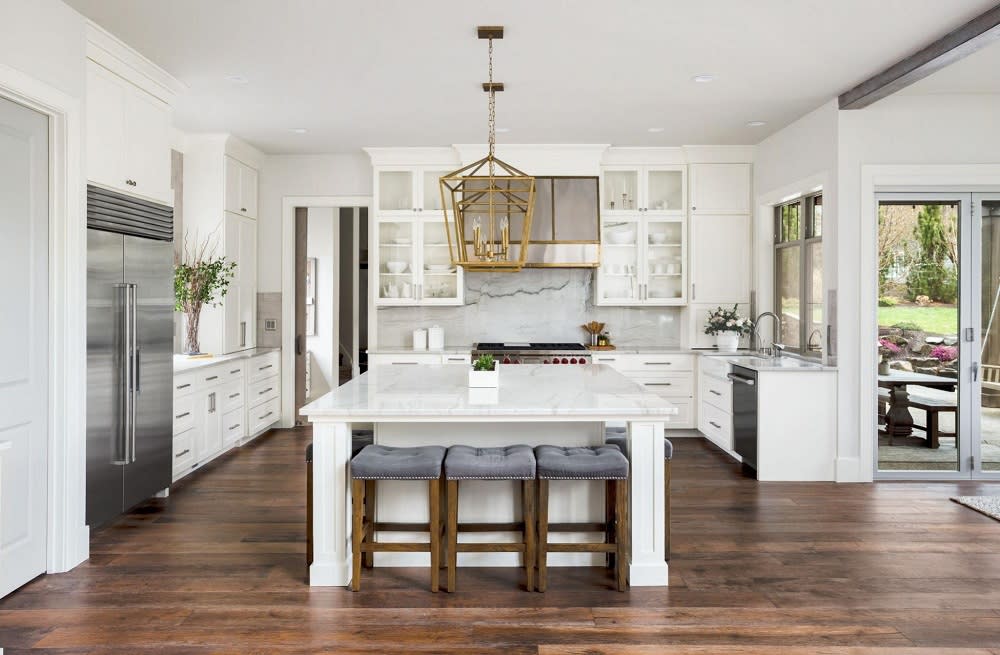 Installing and refinishing hardwood floors is a project that will revitalize the look and feel of your space. In some cases, this value can be hidden under old and outdated carpets. If there aren't any hardwood floors lurking beneath your carpet, consider replacing your flooring altogether with something low-cost such as a modern vinyl floor that looks just like hardwood. It's also wise to consider replacing old, discolored linoleum throughout your home with something far more appealing like tile.
Upgrade appliances

One of the easiest ways to boost your home's value and appeal is upgrading to modern appliances. Buyers looking for move-in ready Lake Hickory real estate will appreciate brand-new appliances ready to handle life in the modern era. Modern appliances also complete the overall look of a space. If you've just purchased a home and considering upgrades that will not only serve you but boost your ROI over time, appliances are a great place to start.
Add to the landscaping atmosphere
Modern buyers are looking for diverse, local flora to populate their outdoor spaces. The ROI for landscaping projects ranges anywhere from 35-200%. It's recommended you invest at least 10% of your home's total value into landscaping in order to maximize the home's potential value—especially if you're thinking of selling down the road. Buyers in 2022 are looking for landscaping improvements like stepping stones, young native shrubs and plants, fruit trees, and vegetable gardens. Consider creating a
certified local wildlife habitat
to curate a sustainable home and entice North Carolina luxury buyers.
Upgrade and replace fixtures

Builder-grade light fixtures and hardware are not aesthetically pleasing for potential buyers, and outdated lighting could cost you more in energy prices than you know. By replacing light fixtures, fans, faucets, sinks, and simple hardware like door handles, you can give your home a finished and thoughtful look and improve the appeal to potential buyers.
Create a private, fenced-in oasis

Many buyers are interested in homes that offer some form of solace from the hustle and bustle of the busy world around them. Adding a fence can be a great home upgrade, and if you and your family own dogs, a fence is a must for your peace of mind, as well as the safety of your dog.
Ready to list your Lake Hickory home for sale?
If you're looking to list your Lake Hickory luxury home for sale, contact the local real estate experts at
The Joan Killian Everett Company
. With deep experience buying and selling Hickory, Conover, and Granite Falls luxury homes,
The Joan Killian Everett Company
is standing by to provide the best market insights, negotiation, and customer service North Carolina real estate has to offer.